czar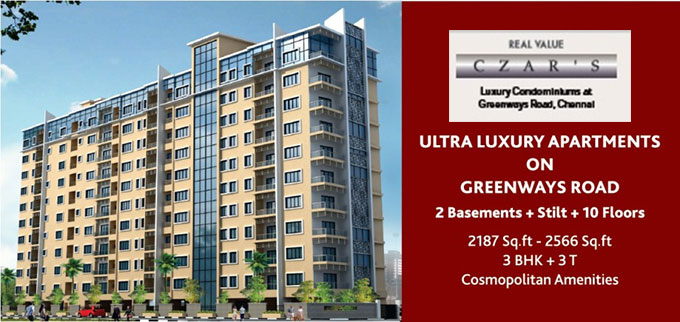 Welcome to the Most Exclusive Condominium… in Chennai.
Brought to you by Real Value Promoters Pvt. Ltd., this collection of Forty premium condominiums are perfectly located in one of Chennai's most premium areas, MRC Nagar on Greenways Road. Sripathi is surrounded by greenery as far as the eye can see. Sripathi overlooks a sprawling 450-acre eco park, the Adyar River, the Chettinad Palace and the 300-acre Theosophical Society.
These high energy conserving Flats ranging from 2187 to 2566 Sqft in Sripathi brings together the best of what Locational Advantage and the Living Space Management can offer to the Occupant. Needless to say the Sripathi will offer you best appreciation values and quality at the best achieved with the best building practices.
For Further Details Contact - 044 66343536. info@realvalue.in